1

Overview and History of the Business
GNG is located in Barriere, BC, and it is owned by Kathie Heard, a carrier of the Wet'suwet'en Nation in Smithers, BC. After many years living in Edmonton, Alberta, Kathie and her husband relocated to Barriere, in July of 2015, on a whim and based on a somewhat random alignment of decisions, taking a courageous plunge into business ownership in BC.
With a background in finance and accounting, Kathie was not ready to retire and instead followed her dream of operating her own business: either a deli/café or a gift shop. Kathie and her husband had noticed that there were no other gift shops of the kind they imagined between Alberta and the West Coast, while there are plenty of shops in Vancouver. After finding a suitable property during their travels in Barriere, consisting of a log building with residence included, the GNG gift shop was born. A gift shop avoided the health regulations affecting a food establishment and enabled Kathie to offer a very unique selection of primarily First Nations gifts and items made in Canada. The move to BC and the running of the business also connected Kathie and her family back to her origins and roots. Kathie is open to share her First Nations heritage and knowledge with anyone who is interested.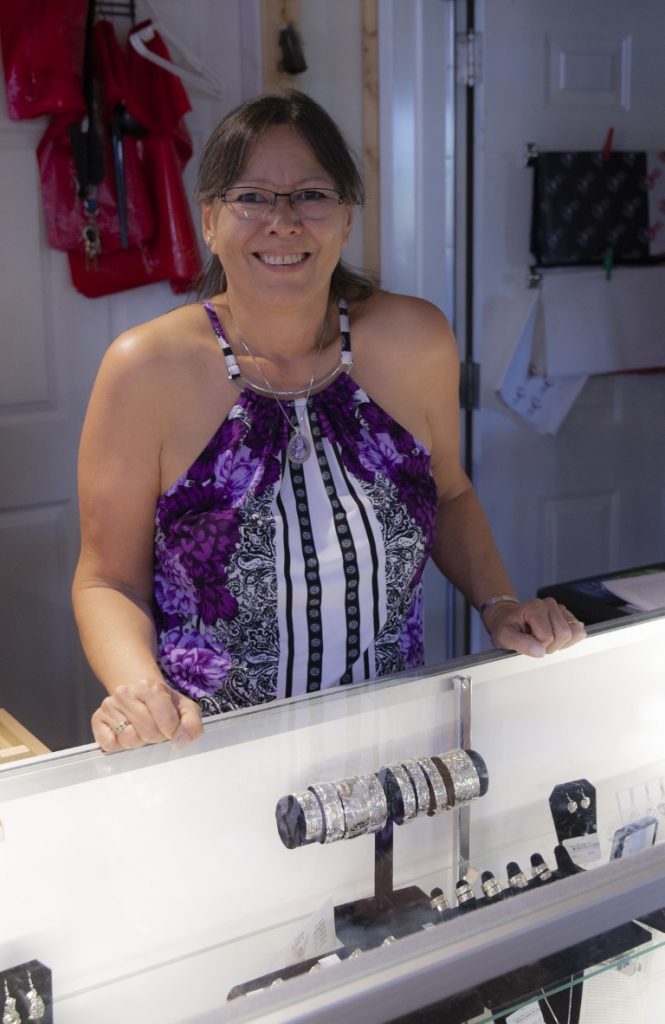 Her husband John up with the name "Gift 'n Gab", while the addition of "Trading Post" seemed to clarify for customers the type of store; "Trading Post" has also turned into the short name for the shop. First Nations artist Clifton Fred assisted in creating the GNG logo: Feathers represent the "Gab" in the name and the encouragement to stop in and connect, while the traditional BC Indigenous colours—black, red, and white—are represented in the logo.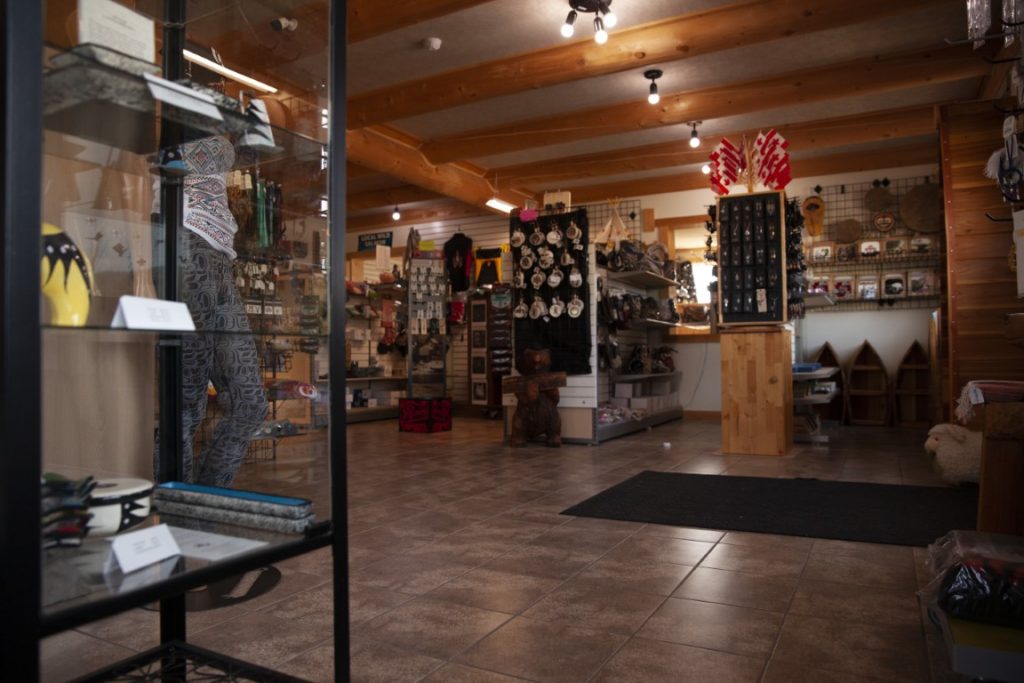 "The eagle feather plays a substantial part in religious and shamanic practices and ceremonies. The eagle feather transmits strength; it gives the ability to speak honestly from the heart, without hurt or anger. The middle vane in the feather symbolizes the path that every man walks in their life time, and every barb that comes of the middle vane symbolizes the choices we all have in life, and that every choice we make is attached to the middle or main path that we take. Eagle feathers are used while smudging along with praying. The feathers were also given as symbolic gift to impart respect for accomplishment and display of courage and wisdom."
GNG is 100% aboriginally owned and operated; Kathie is the sole owner and full-time operator of the shop. Her daughters and her husband help out at the store. Currently the store is open every day from 9:00 am to 6:00 pm during the summer and is wheelchair accessible.
What sets the business apart besides the unique products is Kathie's desire to meet people; there is no sales pressure, and even visitors who are curious just to stop and check out the store are warmly welcomed.
Listen to Audio Clip 1 – Introduction to Gift 'N Gab (Transcript Available) (CC BY-NC-ND 4.0):
"We offer good old-fashioned friendly customer service. We spend a lot of time visiting with the customers, some of whom don't even purchase anything and that's okay. We are interested in exchanging stories about our journeys and hearing the same from those who want to share."
Products Details
GNG exclusively carries First Nations products from BC or Canada, setting itself apart from other shops in Jasper or Vancouver. From the offerings of companies such as Manitoba Mukluks, a company that offers both Canadian-made and internationally made products, GNG will only carry the Canada-made ones. Very few exceptions to this rule are made for items not manufactured in Canada, such as mugs or select apparel. In those cases, Kathie makes sure that the designs originate from First Nations, even if the products are created overseas.
Kathie openly shares her First Nations heritage with her customers by offering Indigenous products of all kinds. The only exception to sharing First Nations products and customs with anyone interested are ceremonial blankets or carvings, which are reserved for First Nations ceremonies.
Other products include wood art, crystal, smudging supplies, herbs, candles, cards, apparel, jewelry, candied salmon, salmon jerky, and coffee. Kathie also owns an industrial-sized embroidery machine to customize apparel on her own, such as adding the coyote, a spirit animal, to select items. As much as possible, Kathie provides tourism information when travelers ask her questions, although the official tourist/visitor information booth is located in downtown Barriere, off the highway.
One of the most popular product categories is salmon, especially wild BC/local salmon. Kathie maintains a business relationship with Riverfresh Wild BC Salmon in Kamloops and really promotes salmon sales. This product entices a lot of people to stop, and even turn around, to come into the store.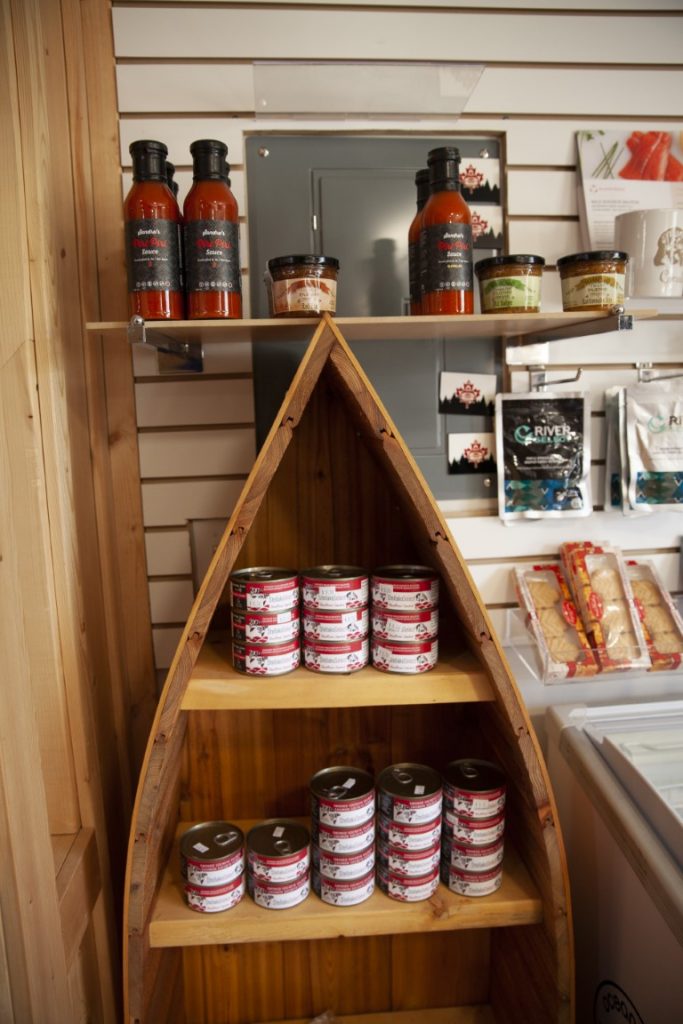 "Salmon is a huge draw!"
Due to questions from the customers, offering food might be a consideration for the future for GNG, possibly allowing a food truck to set up in front of the shop. It would encourage travelers to stop, particularly if special food is served, such as Kathie's idea of salmon and bannock burgers, as well as ice cream. The challenges here are additional staff requirements and meeting food preparation regulations.
Kathie travels to gift shows in Vancouver and Edmonton two or three times a year, where she looks exclusively for items made in Canada and First Nations designs. She also has personal relationships with many suppliers of unique crafts and products. Kathie supports local artists and also connected with the local Secwepemc Nation representatives to show her respect—as a visitor to the territory—by letting them know about her business and to encourage local artisans to offer their products in her store. In addition, random encounters on road trips have also resulted in relationships with artists, such as a chain saw carver that made the bears and wolves displayed outside the store. In addition, artists sometimes stop at her store and introduce their products, such as the late Brian Grandbois's (Cold Lake First Nations, Alberta) art cards.
"I try to have as much local stuff as I can. But because we're so close to the coast, a lot of the stuff is going to come from the coast."
The products are sold exclusively in the retail store, not online or at events. On rare occasions Kathie has delivered purchases to customers when it matched her travel schedule.
GNG plans to update the product selection on a regular basis. Kathie also found out by trial and error what sells and what doesn't sell (e.g., specific designs), originally selecting inventory that suited her own taste and learning through the years to accommodate the customers' tastes. Overall, GNG's product selection is based on the store's audience as outlined below, for example offering products for a more advanced age group instead of carrying "hot sellers" for younger, urban customers.
Examples of artists whose products the store carries:
Chilliwack artist Michael Forbes
Renowned artist Wade Baker
Carvings from Richard Baker
Art by Richard's son Troy and brother Matthew (represented at the Vancouver airport)
Listen to Audio Clip 2 – Consumer Behaviour (Transcript Available) (CC BY-NC-ND 4.0):
Listen to Audio Clip 3 – Tourism and Marketing (Transcript Available) (CC BY-NC-ND 4.0):
Pricing
Compared to competitors' offerings, GNG maintains price levels that are at the lower end of the range for these type of products in gift stores.
"All of the feedback that I get on the products that we carry, is that our stuff is very, very fairly priced. And that makes me happy, because that was one of my goals."
The most popular and fastest-selling price range is 20-40 CAD. Products with prices higher than that take longer to sell, often remaining on the shelf for over a year, as customers would have to be specifically looking for those items.
Kathie has considered marketing guidelines with regards to what percentage of the shop space should contain products in a particular price range but realized that by trying different products and prices, she would eventually in the end find the best combination.
"It's all trial and error."
No discounts have been applied to the products, given the competitive pricing strategy. In the past, rack cards that were distributed contained discounts but the interest seemed low.
Customers
As a general rule, Kathie's customers are 35 years and older. They tend to be very educated in the specifics of the products they enjoy (for example, asking for very specific smudging ingredients). They are aware of typical West Coast aboriginal designs and ask questions of the origins. For example, Kathie works with an artist in Edmonton whose ancestry is Apache so the designs reflect this and the customers' questions show the awareness. Typically, her customers are looking for BC designs and products, which are very different from designs from other regions.
In general, a lot of Europeans and travellers from neighbouring provinces frequent the store. Some tour buses have stopped in the past. The teepees in particular attract a lot of First Nations customers, many from Alberta and Saskatchewan as well as some from Northern BC. Kathie also works with B&Bs that recommend the store to their customers, who are often interested in the salmon products.
Typically, travelers who passed the store in the past tend to stop in on subsequent visits to the region. In recent years, highway closures due to fires also "forced" a lot of travellers onto the highway through Barriere, which introduced them to the shop. There are also many repeat customers from Kamloops. Kathie exclaims:
"Now they know it's here!"
Contact information from the customers has not been collected due to the strict privacy laws in Canada. Kathie also mentioned:
"I just don't want to be that store."
She wants the customers to leave happy, even if only stories were exchanged. There should be no pressure to buy.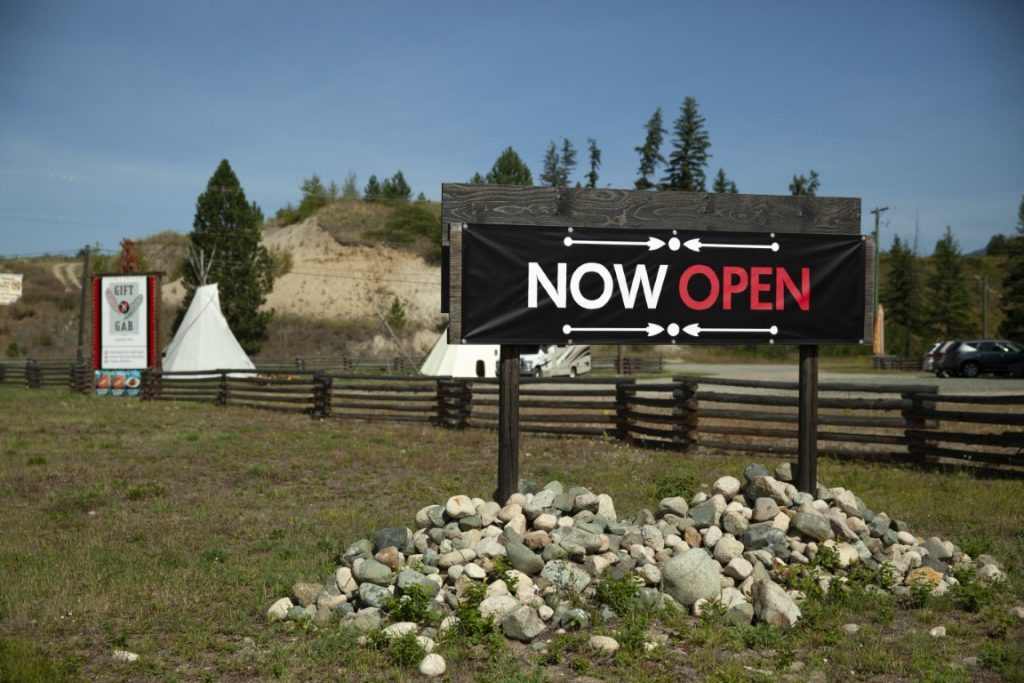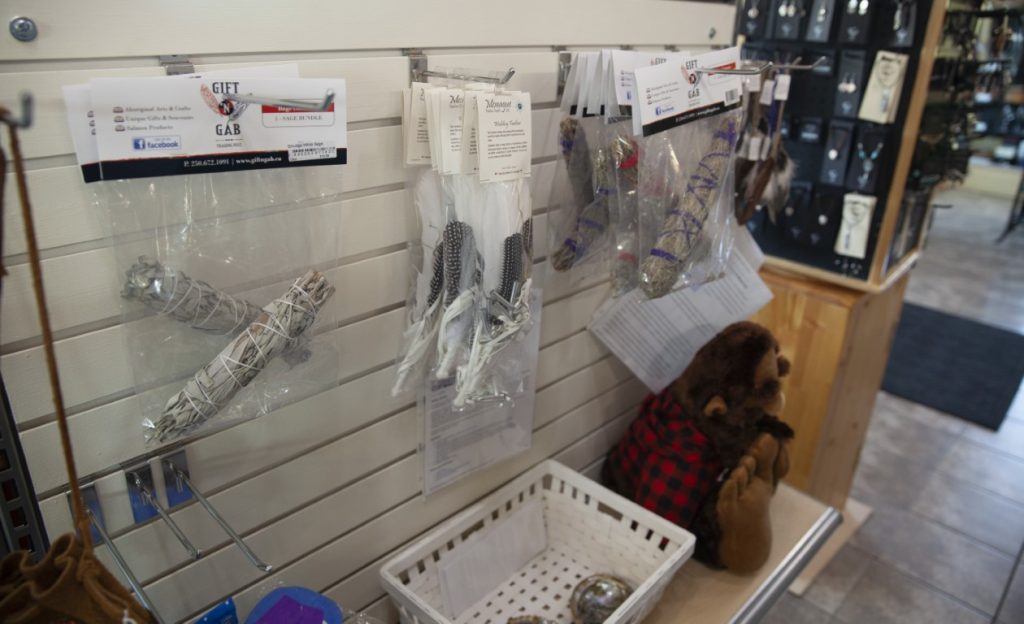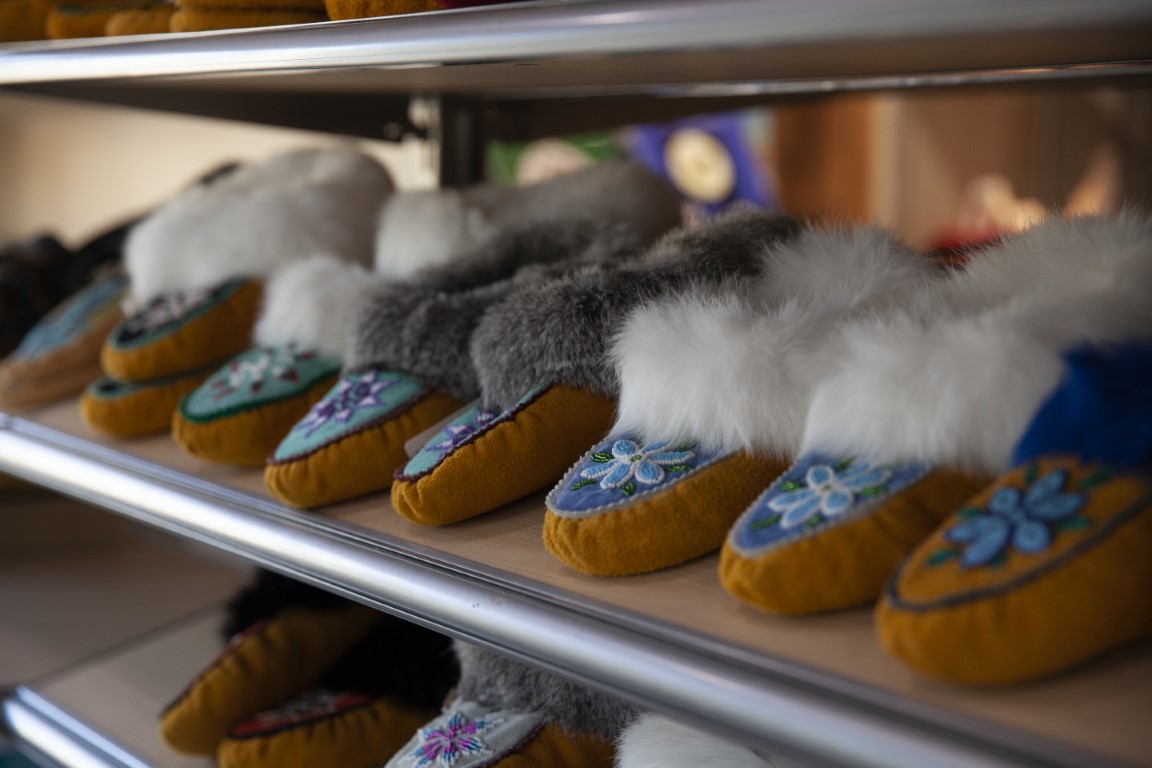 Finances
The business was 100% personally financed, including all initial travel to acquire inventory.